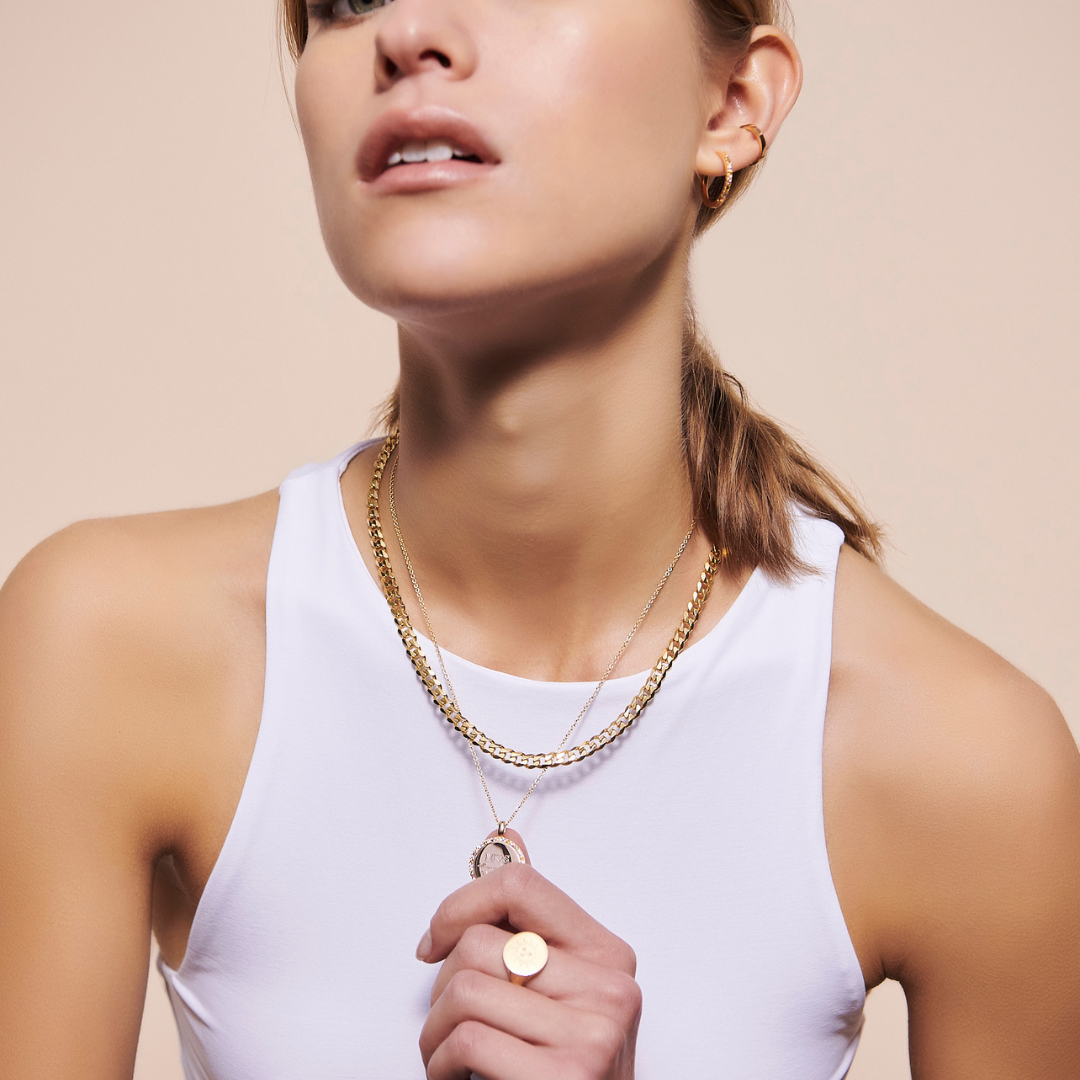 #ENGRAVEME
Explore our engravable jewelry and find the perfect piece to turn a memory into a lasting keepsake.
Collapsible content
READ MORE

PERSONALIZE YOUR JEWELRY


Do you want to stand out with your own personalized jewelry that is uniquely yours? Here at Sif Jakobs, we now offer the option to personalize your jewelry. Personal and unique jewelry is a must-have, and we engrave according to your wishes and preferences. Whether you prefer gold or silver, with or without zirconia, rings, or a simple necklace, we make it possible for you to find something that suits you and your style perfectly. Our engraved jewelry makes the perfect gift, whether it's for yourself, your mother, friend, sister, or girlfriend. You can engrave anything from a date, a fun quote, a motif, making it as personal and unique as you desire. Personalized jewelry adds a unique and distinctive look that only you possess.

JEWELRY FOR EVERYONE


At Sif Jakobs, we've given you the opportunity to personalize your jewelry. You can choose from a wide range of jewelry, including silver and gold, necklaces, rings, and bracelets, with or without zirconia. We guarantee that you'll find something that matches your taste.

HOW TO ENGRAVE YOUR JEWELRY


There's no reason not to have your jewelry engraved since it's entirely free, so take advantage of the opportunity. We've made it easy and straightforward to have your jewelry engraved. All you need to do is follow these 3 steps:

Choose your jewelry
Select text, motif, or both
Choose the font

JEWELRY FOR THE BIG DAY
Do you have a date that you want to cherish forever? We all have personal dates in our lives, something we want to remember and commemorate. Jewelry with a personal date is the perfect unique gift. Has your friend become a mother? Is your sister getting married? Is your cousin graduating? Or is it something entirely different that you want to celebrate? Why not give a gift with this unique date that marks this special occasion forever.

JEWELRY THAT'S UNIQUE TO YOU


Do you want jewelry that no one else has? Then the Follina series with engraving options is a perfect solution. Do you prefer a simple and minimalist look? Do you like a plain necklace or ring? Then the Follina series is the obvious choice. Personalize your jewelry with an engraved quote or date. A simple personalized piece adds a minimalist look without being dull, as who says minimalist has to be boring?

STACK YOUR JEWELRY


Are you up for the latest trends and love to stand out from the crowd? Our personalized necklaces are perfect for stacking with some of our other chains. This adds a trendy and personal touch to your style. No one else has the combination of chains like you do, and by adding an engraved piece, it only makes your style more unique and special.

GIVE A PERSONAL GIFT


Most people know the feeling of having a friend who you just don't know what to give, someone who doesn't lack or want anything. This often leads to buying a gift card on the way. Not exciting to receive and not exciting to give. On the other hand, a thoughtful personalized gift is both lovely to give and receive. An ideal choice for a personal gift could be an engraved piece of jewelry where you've had a funny quote, a special day for both of you, or some wise words that have meaning to both of you. By giving this special piece of jewelry, you also express why she is special and therefore deserves something that is unique and special.

NOTE: Please be aware that the shipping time for engraved jewelry may take longer. Engraved jewelry cannot be exchanged or returned.