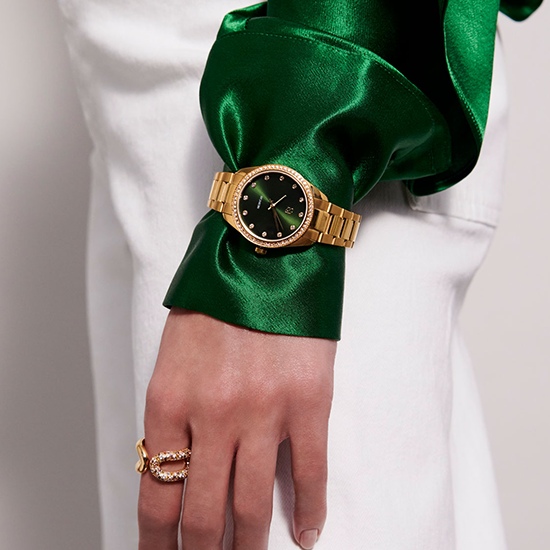 MATERIAL
Sif Jakobs Watches are made of 316L stainless steel for the watch case and bracelet, making them hypoallergenic.
SAPPHIRE GLASS
Sif Jakobs Watches feature sapphire glass, which is crystal and not actually a type of glass. It is pure aluminum oxide that has undergone a crystallization process. Sapphire crystal is the most expensive type of watch glass due to its incredible hardness and durability. Sapphire is considered the best material for protecting the watch dial from impact.
WATCH MOVEMENT
We use MIYOTA Japanese watch movements in all our Sif Jakobs watches. The movement is widely accepted as the most accurate Japanese watch movement. It is an analog quartz movement, which has many advantages. These include a long battery life, precision, reliability, good thermal behavior since temperature does not affect the oscillation rate of quartz. MIYOTA has been supplying watch movements to leading brands worldwide for almost 40 years. Every part used in MIYOTA movements is made in Japan. Additionally, the parts we use are mostly metal, ensuring high precision and durability. MIYOTA's battery lasts 4-10 years depending on the model.
GOLD PLATING
The gilding on Sif Jakobs Watches is IP/Ion plating (0.5MIC TIN + 0.1 MIC AU (1N14)). IP plating on stainless steel provides a more scratch-resistant (harder) surface. The end result is also relatively lightweight, making it easy to wear, and the plating means that the watches are five times stronger than standard stainless steel watches.
WATER RESISTANCE
Our Sif Jakobs Jewellery watches are either 30 or 50 meters water-resistant. A water resistance of 30 meters means the watch can withstand splashes of water. A level of 50 meters means it can be worn for swimming in shallow depths. CUBIC ZIRCONIA The stones in our Sif Jakobs Watches are high-quality Cubic Zirconia.
SPARE PARTS AND BATTERY REPLACEMENT
Replacement of the battery and links to extend the length of the watch is recommended to be done by a certified dealer. Gisella watches come in a standard length, but you can order additional links if you prefer a longer bracelet.
RETURN & COMPLAINT
All Sif Jakobs Jewellery Watches are covered by the Sale of Goods Act with a 24-month warranty. This warranty means that as a customer, you can complain about defects in the product that occurred within 24 months of the purchase. This implies that you are entitled to either have it repaired or replaced, refunded, or receive a price reduction, depending on the specific situation. Any form of watch repair must be carried out by a certified dealer.
GENERAL PRODUCT CARE
Only clean your Sif Jakobs watch with a clean, dry, and soft microfiber cloth. Avoid the following:
- Contact with perfume, cosmetics, cream, sunscreen, or other beauty products
- Contact with chemicals (cleaners/soap)- Wearing our watch during sports or while sleeping
-Contact with hard/rough materials
- Prolonged exposure to magnetic surfaces
It is recommended to have the watch inspected by a certified dealer every two years.